COURSE INFO: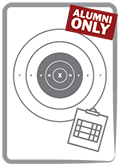 1/2 Day Class
(view available classes below)
PRE-REQUISITES:
MDFI ALUMNI ONLY
MDFI's Foundation Handgun / Carbine / Shotgun depending on the discipline of the class
Valid CPL or Law Enforcement Credentials (if you do not have either, email us for instructions).
Must have working operational knowledge of the firearm you bring to class (i.e know how to load/unload safely).
MUST KNOW, UNDERSTAND AND APPLY THE FOUR LIFE RULES OF RESPONSIBLE FIREARMS HANDLING AT ALL TIMES. See video below.
DESCRIPTION:
Class Flow: DEPENDS… What does a par time do to you?
When we take a firearms class, we go to learn new tips, tricks, methods, and techniques and are held to someone else's standards.But what if we want to improve our own shooting standards?
At MDFI, we are huge fans of scorable metrics in our training routines. Whether it includes time standards, points based scoring, or both. Having these metrics allows us to gauge where we stand on certain drills, giving us goals to try to beat next time around.
We like to call this our Personal Baseline.
Quite simply, if we can't gauge our strengths and weaknesses, how can we target and train on what needs to be worked on? (especially when range time may be limited)
MDFI's "Skills & Drills" was built to fill a void between full training classes and "Range Time" with the goal of getting new, challenging drills in front of students that want to increase their performance of shooting fundamentals and firearm manipulation techniques. Each drill lineup is from the Rolodex of drills that we as cadre like to shoot in order to increase and maintain our personal proficiency.
In this class, each attendee will have the opportunity to learn new skill-set drills and work with the MDFI cadre and fellow students to improve performance during the class through instruction and individual feedback. Students will document the days results on a personal baseline scorecard so that they can continue improving when they are away from MDFI and on their own time. The MDFI Cadre will break down different aspects of each drill through discussion, demonstration, and instruction so students can improve in the class and when practicing on their own.
MDFI Skills & Drills events are split up into Handgun, Carbine, and Shotgun and no two will be the same. These events are available to MDFI Alumni who have taken Foundation Handgun, Shotgun, or Carbine depending on the discipline of the specific course.
TOPICS COVERED:
In-depth Firearms Responsibility (safety) and Medical Briefing
Handgun Skills
Rifle Skills
Shotgun Skills
STUDENT REQUIREMENTS:
REQUIRED:
HANDGUN
200 Rounds of Ammunition
3 Magazines
Quality Holster
(See FAQ for allowed types)
Eye + Ear Protection
You must bring your CPL (or LE credentials) to class.
RIFLE
Sighted-In Semi-Auto Rifle/Carbine
(Rifles that accept AR-15 or AK style
magazines are most common, but we
can work with you on any type)
200 Rounds of Ammunition
3 Magazines
Eye + Ear Protection
You must bring your CPL (or LE credentials) to class.
SHOTGUN
Pump or Semi-Auto Shotgun
150 Rounds of Birdshot (lead shot only) and 10 slugs
Body-Worn Pouch to Hold Spare Ammunition
Eye + Ear Protection
You must bring your CPL (or LE credentials) to class.
RECOMMENDED:
Magazine Carrier
Appropriate Clothing for Weather
Sunscreen / Insect Repellent
Folding Canopy, Table and/or Chair
Snacks + Drink for Day of Training
UPCOMING CLASSES
This course is only available to MDFI Alumni therefor you must be logged in to your Alumni account to register.
No classes scheduled for the 2023 training season.
STUDENT REVIEWS
Average rating:
6 reviews
Jul 3, 2019
This past weekend, I participated in the new Skills and Drills classes and they were fantastic. Tim, Brandon, and Derek are great instructors and provide students with information and feedback that is easy to understand and apply. I got more out of this weekends sessions of Skills and Drills than I have at several of the past classes I have taken. The reason is simple, these classes are not about teaching you something new, it is about refining what you already know. I recommend everyone who is looking to enhance their shooting performance take these classes when they are available. You will come away with practical information and a score card you can use to measure your performance as you go back and practice what you learned.

While the class description does say "no two classes will be the same", their needs to be more emphasis on this. I took the handgun session on both Saturday and Sunday and came away with a completely different set of drills to focus on from each session. This is the value of S&D, to learn something new each time you attend a class.

I enjoyed this past weekend so much, I have already signed up for the next Skills and Drills sessions.
Jul 1, 2019
I attended the 2019 JUN29 Skills & Drills for both rifle (AM) and handgun (PM). What a great experience to gather with committed alumni and focus on sharpening skills. Tim, Brandon, and Derek were amazing guides in "training how to practice." In the end you'll receive a personal report card with descriptions of all the drills and your times for the day. This gives you baseline and structure to practice on your own.
The class size tends to be smaller, which is good for personalized coaching by instructors, but it still needs to be a sustainable business case, so we alumni need to do our part is sharing and encouraging others to take it on. I loved the class!
Jul 1, 2019
Where do I start? I believe if you are serious about improving your skills and finding you weekenesses, whether that be in your gear or your ability, you MUST attend Skills & Drills classes. I found issues with my handgun while pushing speed against a par time I never found on a static line shooting for bullsyes. Better there than in a self defense senerio. At the same time par times and quick reloads can humble you, they also make you a more efficient and responsible firearm owner.

Do you shoot competition? These classes WILL improve your stages in your respective disciplines. And like all MDFI classes, SAFETY IS FIRST AND FOREMOST. Ego Free remains the theme.

If you're an MDFI Alumni, do not pass over Skills and Drills because it isn't a Full Tour Black Card requirement. These classes will help with the other Full Tour required classes. Don't be put off what is perceived by some as "low round" count. It's not how many rounds you shoot, it's what you get out of each round you shoot. If you shoot 500 rounds in a day and just have a pile of brass on the ground and no improvement, it won't beat 50 rounds and learning what it is you're doing that's not working.

Lastly, the Cadre take the time to demonstrate every drill. No, they aren't showing off. They are showing you that what they are asking of you can be done and giving you something to work towards. And if there's a topic you're struggling with, you get one on one coaching.

I'll hope to be taking Skills and Drills again.
Apr 11, 2019
I wanted to take a moment and give honest feedback about this class "Skills & Drills - Handgun". l I am truly impressed with this class and the sheer amount of great info and topics covered. Whether planned or not, to me this class is the next logical progression of handgun manipulation skills for the MDFI curriculum. You get to take the skills you learned in YSINTG taming those wolves and the foundations from FHG and apply them both. This class stretches and tests those skill sets just enough to really find your personal level of ability and even provide a measurable to be able to have a benchmark for future growth. Tim, Brandon, and Derek provided a safe, fun, and ego free environment that I feel is necessary to help effective learning. One thing I really enjoyed about this class is it's really sets the stage for repeating the class over to see a personal growth which is sometimes hard to see in other venues. I have come to think as MDFI as the place "I" train and it's great to see the positive evolution while maintaining the standards and environment I love.
Apr 9, 2019
Both Pistol & Rifle "Skills & Drills" are excellent courses that fill a niche between "Foundations" courses and MDFI advanced and specialty courses. I came away with personal performance baselines for the weapons I used, a number of new drills to develop different aspects of weapons proficiency, and a systematic, metrics-based approach for developing (and tracking) my skills between classes. As I learned long ago on the job, "If you don't measure it, you can't manage it." We drove down into the granular elements that add up to accurate, performance-based shooting, and thoroughly wire-brushed the way I plant my feet, how I position my body, how I grip the firearm, how I manage recoil, and how I reload. I was amazed at how much I found myself improving with both the handgun and the AR in short investments of six hours each. A trip to the range on my own the next day revealed that the improvement was real. The cost of each course was roughly equivalent to 300 rounds of AR-15 or 550 rounds of 9mm handgun ammo at today's prices—I cannot begin to imagine how many thousands of rounds I might have expended before improving as much as I did in one weekend with the S&D courses. Tim and Brandon (with support from Tom and Derek) did an excellent job of teaching. If you're serious about your shooting, this is a course to put on your "must take" list.