COURSE INFO: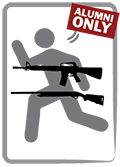 1-Day Class | 9am – 7pm
(view available classes below)


(this course has been registered with MCOLES for use of PA 302 Law Enforcement Distribution funds and earns training credit within MITN)
PRE-REQUISITES:
MDFI ALUMNI ONLY
STUDENTS REQUIRED TO PASS THE MDFI FOUNDATION CARBINE (OR SHOTGUN) QUALIFIER AT THE BEGINNING OF CLASS. View target here (instructions on page 2).
MDFI Foundation Carbine/Shotgun (depending on what you're using)
Valid CPL or Law Enforcement Credentials (if you do not have either, email us for instructions).
MUST KNOW, UNDERSTAND AND APPLY THE FOUR LIFE RULES OF RESPONSIBLE FIREARMS HANDLING AT ALL TIMES. See video below.
DESCRIPTION:
Class Flow: INTENSE (students can expect a full day of movement and physicality when attending this class)
It would be great if we could always have sure-footing underneath us at all times when we need to make the perfect shot. It would be great if bad guys stood out in the open with Nerf-guns as their only weapons. Real-life isn't so easy and for that reason, we need to use our environment to our advantage. This class will prepare students to use make the most of movement and cover while achieving needed hits on target.
Long Gun Cover + Movement is designed for the shooter who is confident and competent with shooting fundamentals AND weapon manipulation of their shotgun or rifle and handgun. This class is for the intermediate to experienced shooter who understands and applies the four rules of responsible firearms handling as a way of life. This class is physically stressful and will test those who attend.
TOPICS COVERED:
In-depth Firearms Responsibility (safety) and Medical Briefing
Alternate Position Techniques
Shooting on the Move
Movement to Cover
Cover / Concealment Discussion
Use of Cover
Movement Around Others
STUDENT REQUIREMENTS:
REQUIRED:
LONG GUN – Either a Rifle/Carbine or Shotgun
Sighted-In Semi-Auto Rifle/Carbine – Rifles that accept AR-15 or AK style magazines are most common, but we can work with you on almost any type.
300 – 400 Rounds of Rifle Ammunition
3 Magazines
————— or —————
Patterned / Sighted-In Pump / Semi-Automatic Shotgun
200 Rounds of Buckshot and/or Slugs
15 Rounds of Lead Birdshot
Pouch or Carrier for Shotgun Ammo
OTHER
All gear and ammunition required to shoot the
Foundation Qualifier for the long gun of
your choice at class start.
Eye + Ear Protection
You must bring your CPL (or LE credentials) to class.
RECOMMENDED:
Knee Pads
Quality Rifle Sling
Clothing You Don't Mind Getting Dirty / Damaged
Appropriate Clothing for Weather
Sunscreen / Insect Repellent
Folding Canopy, Table and/or Chair
Snacks + Drink for 8 Hours of Training
UPCOMING CLASSES
This course is only available to MDFI Alumni therefor you must be logged in to your Alumni account to register.
STUDENT REVIEWS