COURSE INFO: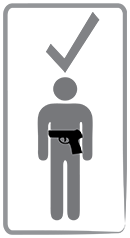 1-Day Class | 9am – 7pm
(view available classes below)
USCCA Concealed Carry & Home Defense Fundamentals
These classes are taught through our training affiliates at Foundation Defense, LLC and Minuteman Defense, LLC and meets the requirements of the State of Michigan for your CPL prerequisite training.
PRE-REQUISITES:
Legal: Must be able to lawfully own a firearm.
Basic Handgun Knowledge: Student MUST have a competent working knowledge of their chosen firearm and how it works. (understand how to load/unload, lock slide back, etc.)
Physical Ability: Students MUST be able to manipulate their handgun WITHOUT assistance. (pull back slide, lock slide open, etc.)
MUST KNOW, UNDERSTAND AND APPLY THE FOUR LIFE RULES OF RESPONSIBLE FIREARMS HANDLING AT ALL TIMES.

MUST watch this video below:
DESCRIPTION:
Class Flow: RELAXED (This course is a mixture of classroom with some range time)
Carrying a Gun is your Right. Learning how to properly use it and when it can be used is your Responsibility.
MDFI is dedicated to building competent and confident responsibly armed citizens and now you can start down that path with Concealed Pistol License preparatory course taught under the MDFI banner.
Since CPL courses are "government approved and required," and often taught or developed to simply, "Check a box," we have found that the majority of them are woefully lacking in worthwhile content and appropriate firearm safety standards.
We are dedicated to make sure that our students meet the "State Requirement" for their CPL certification training but also get much more than the "minimum." Those who attend this class will leave with a far better foundation of skills and knowledge than simply, "required."
Students who complete their CPL preparatory course with our CPL Training Affiliate Instructors will receive a $50 off coupon for MDFI's nationally-known, "You Suck! It's Not The Gun!" course which is the perfect compliment to those starting off on carrying a firearm.
STUDENT REQUIREMENTS:
REQUIRED:
Iron-Sight or Red-Dot Equipped Handgun (Red Dot needs to be sighted in)
100 Rounds of Ammunition
2 Magazines (more if your magazine capacity is 10 or less)
Quality Holster & Belt – Handgun holsters MUST meet the criteria as outlined in the MDFI gear policies and MUST be used IN CONJUNCTION WITH A BELT (see policies). Failure to bring proper gear to class will result in the student not being able to train with their firearm and forfeit tuition.
Eye + Ear Protection
RECOMMENDED:
Comfortable clothing for a classroom environment and appropriate clothing for the outdoors (for range time). We highly recommend a brimmed hat and shirts that fit snugly at the neck line. No sandals or open-toed shoes.
Sunscreen / Insect Repellent
Folding Canopy, Table and/or Chair
Water and Food for Full Day of Training (there are no "lunch breaks" to leave and get food)
UPCOMING CLASSES